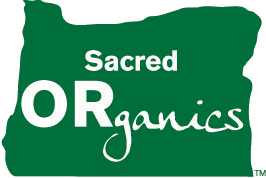 Gourmet Garlic and Shallots
from Oregon's Willamette Valley
Come join us for our 4th annual Specialty Garlic Festival at West Union Gardens!
This event is always the 3rd weekend in August. Sacred Organics will have all of our garlic varieties available on August 18th and 19th, 2023, from 8am to 8pm, hosted by Sacred Organics at

West Union Gardens
7775 NW Cornelius Pass Rd.
Hillsboro, OR 97124.

We hope to see you there!
About Sacred Organics
Sacred Organics is a family farm that has been operating since 1999. We were first certified organic in 2002, and held that USDA organic certification for 16 years. Although we are not currently certified organic, we still continue to utilize the same organic practices that we always have, without the use of synthetic pesticides, herbicides or fertilizers.
Sacred Organics proudly specializes in rare, heirloom specialty crops, primarily growing unique and delicious garlic and shallots. We grow over a dozen varieties of heirloom garlic, both hardneck and softneck types. We hope you enjoy our fresh garlic and shallots as much as we do!
To your health!
Joshua Rapport
Sacred Organics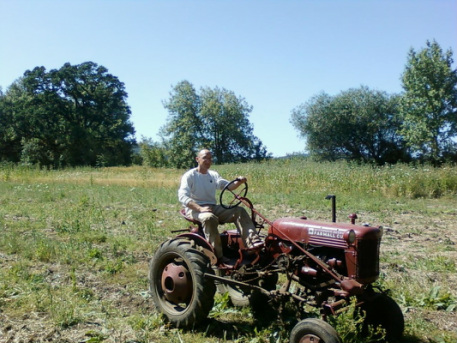 Heirloom Garlic and Shallot Varieties
There are hundreds of garlic varieties originating from all over the globe that all come from two major groups, hardneck and softneck.
Hardneck types tend to have more complex flavors and store 3-6 months.
Softneck types are more common as they can store for 6-12 months and are great for making braids.
Please note: All of our garlic is excellent for both eating and planting.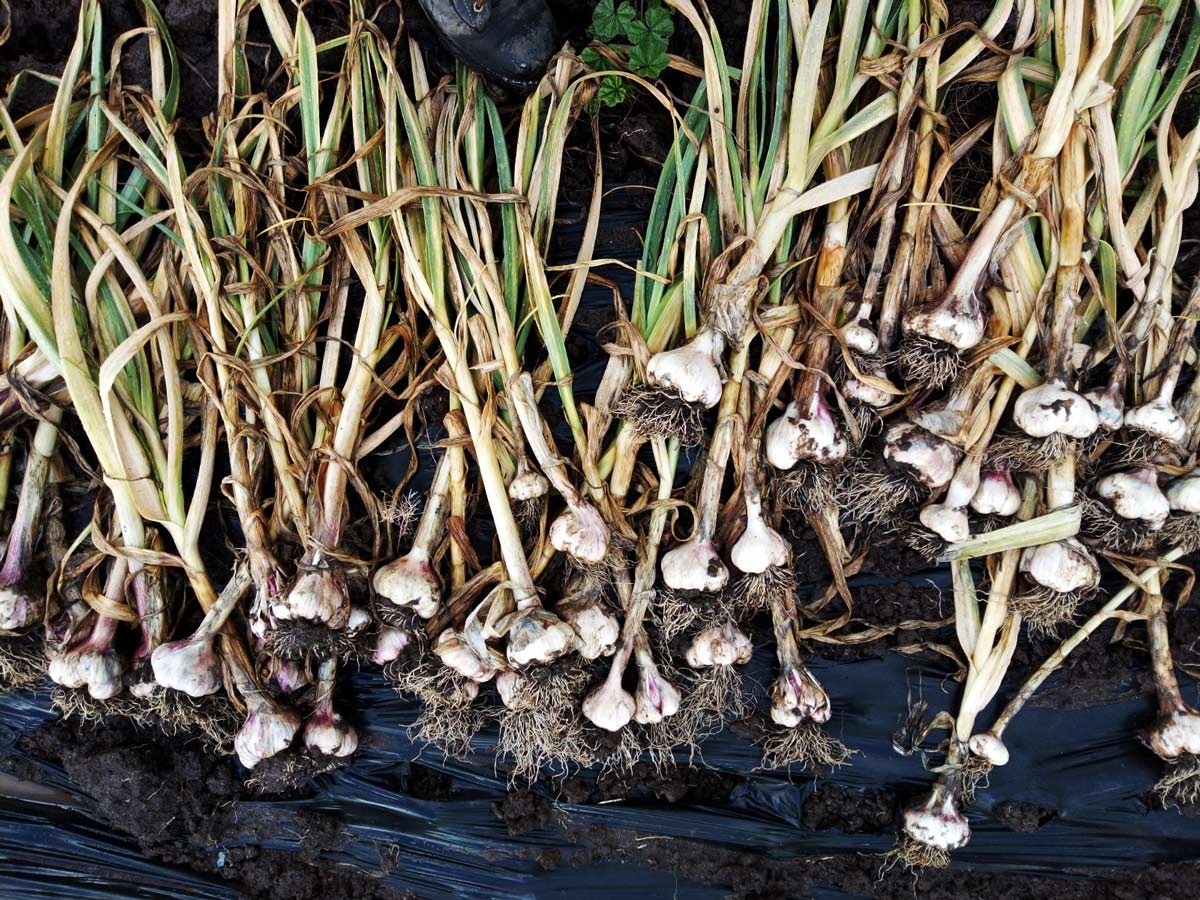 HARDNECK GARLIC
Allium sativum var. opheoscorodon
(sub-species varieties: Rocambole, Purple-Stripe, Porcelain, Asiatic)
Chesnok Red (Purple-Stripe)

A long-time favorite among cooks who love a strong garlic flavor. This variety has beautiful purple-striped bulb wrappers with red/brown clove skins that have a long pointed end. The cloves are very easy to peel and have a bold, long-lasting flavor. This Russian variety originates from the village of Shvelisi in the Republic of Georgia and produces 8-10 cloves per bulb.

Deerfield (Purple Stripe)

A superior hardneck variety with strikingly-beautiful burgundy stripes on the bulb skins. One of our personal favorites because of its uniform, large cloves, easy to peel, and strong,fiery garlic flavor. This variety produces 8-11 cloves per bulb.

Duganskij (Marbled Purple-Stripe)

A stunningly beautiful garlic with deep-purple bulb wrappers. Originally from Uzbekistan, this variety produces med-large bulbs with 4-7 cloves per bulb. The amazingly-strong flavor matches it's striking appearance and has been a favorite among chefs who love a very bold, strong garlic flavor.

Siberian (Purple-Stripe)

This hardneck variety has beautiful purple-streaked bulb skins that peel down to a purple/brown clove skin. This mid to long storing garlic has a robust flavor that will not fade away from cooking. It is said that this variety found its way south from Alaska where it was obtained by fishermen who apparently traveled the seas with green leafy vegetables for trade and decided to trade for some of this garlic when they reached eastern Siberia. These garlic bulbs generally produce 4-7 cloves per head.

Montana Zemo (Porcelain)

A more vigorous version of the original Zemo, developed in Northwest Montana. This hardneck garlic garlic produces large, dense bulbs with white skins and a beautiful purple blush on the skin cloves. This improved variety is an excellent alternative to the variety "Music" boasting similar characteristics such as 4-6 large cloves, sharp flavor when eaten raw, and a slight sweetness when cooked or roasted.

Romanian Red (Porcelain)

A long-lasting strong, pungent flavor with a nutty after-taste. This variety has a white with purple-blush bulb wrappers with jumbo sized cloves. Romanian Red garlic usually produces 4-6 cloves per bulb.

Blanak (Rocambole)

This Rocambole-type garlic has a strong, true-garlic flavor with white bulbs that have purple stripes on the bulb wrappers. Originally from Bulgaria, this garlic is very easy to peel. Medium-large heads with 7-11 cloves per bulb.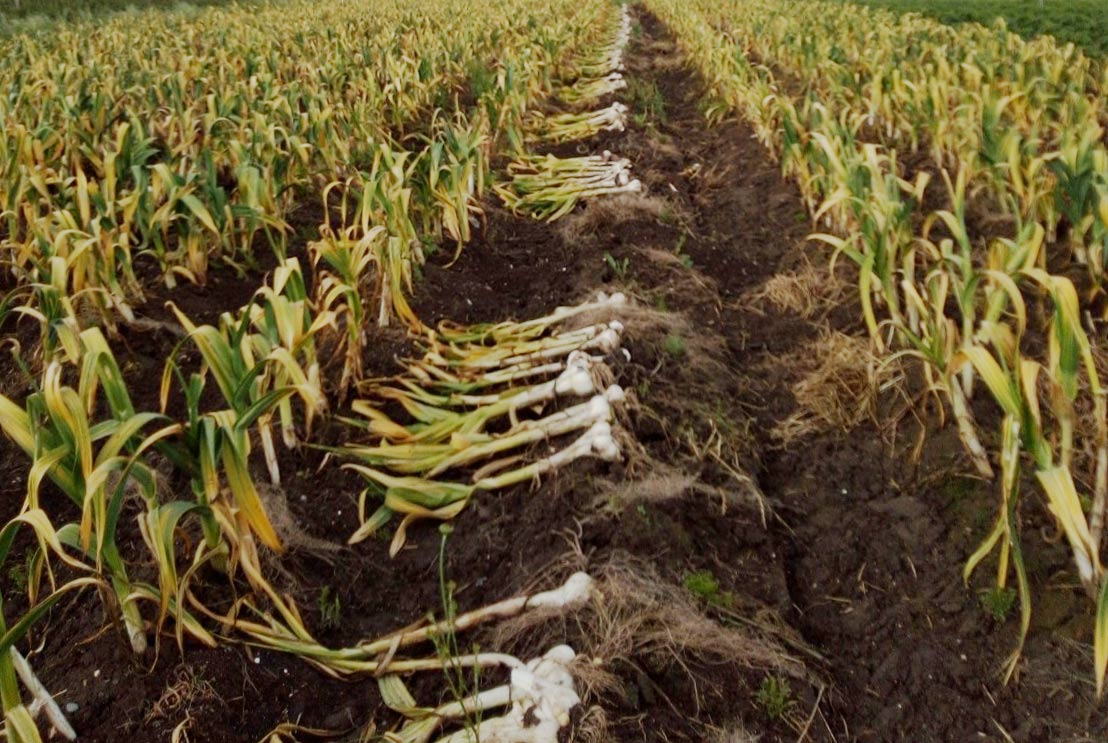 SOFTNECK GARLIC
Allium sativum var. sativum
(sub-species varieties: Silverskin, Artichoke, Creole)
Mild French (Silverskin)

This deliciously mild garlic was brought over from France and was first grown in Texas. It still has a nice sharp garlic flavor eaten raw, and when cooked it has a smooth, mild flavor.Mild French can get stronger when grown in colder climates, and this long-storing garlic variety usually has 12-20 cloves per bulb.

Silver White( Silverskin)

A late-season harvested softneck variety, excellent for braiding with a high-yield and long storage. Snow-white bulbs skins that peel down to light-pink clove skins. This garlic variety has 15-20 cloves per bulb that usually produce large, uniform bulbs. This slightly milder flavored garlic when cooked develops a stronger bite in storage.

Nootka Rose (Artichoke)

Beautiful white bulbs that peel down to dark purple/brown cloves. A Northwest heirloom from the San Juan Islands in Washington State. Nootka Rose is known for its strong garlic flavor producing 15-24 cloves per bulb.

Lorz Italian (Artichoke)

A superb heirloom garlic, brought to Washington State's Columbia River Basin in the late 19th century by the Lorz family when they immigrated from Italy. A strong, spicy Italian garlic that is very popular with chefs that want a lot of garlic flavor. This artichoke-type garlic is a good keeper and produces 12-19 cloves per bulb.

Red Toch (Artichoke)

This garlic variety was discovered growing vigorously near the city of Tochliavri in the Republic of Georgia, of the former USSR. A softneck variety, producing large bulbs streaked with shades of pink and red. Red Toch garlic is popular for its complex flavor, early harvest, and large cloves.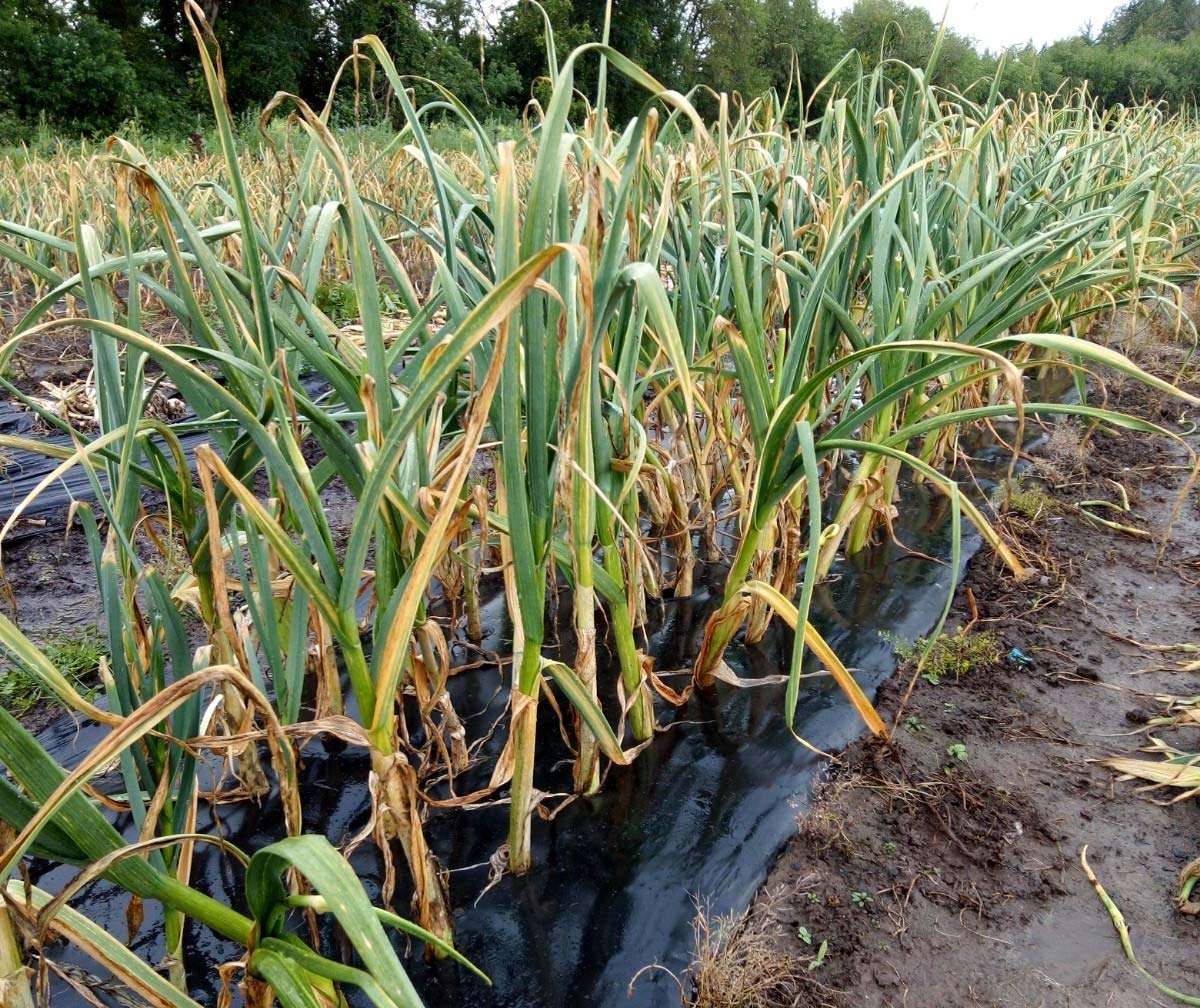 ELEPHANT GARLIC
Allium ampeloprasm
Elephant garlic is in the same family as true garlic, and is closely related to the leek. It is known for its large size, sometimes weighing in at over a pound per bulb! Elephant garlic is generally milder in flavor and great for roasting, and used in soups and stews. Enormous bulbs that usually produce 5-8 cloves per bulb.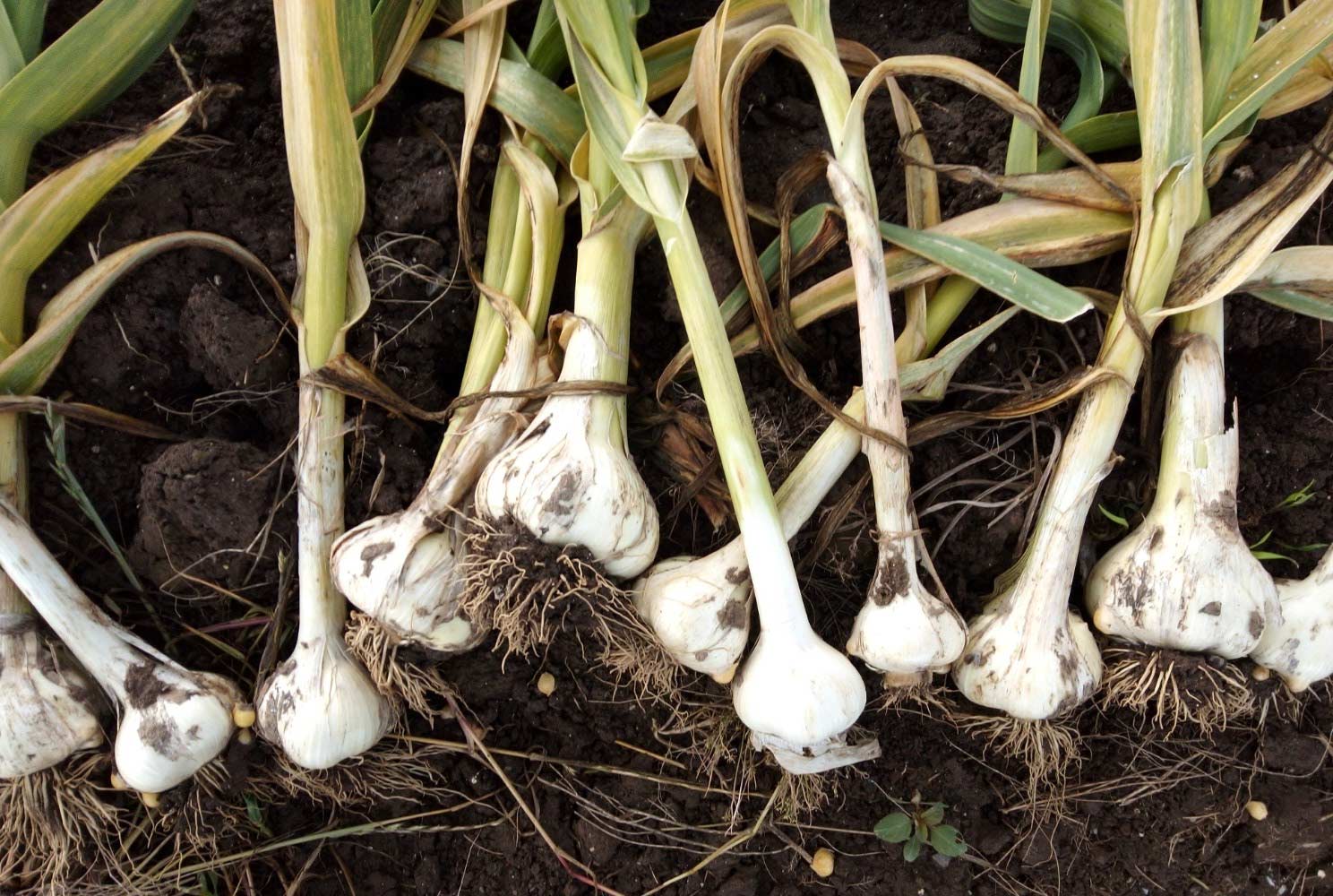 SHALLOTS
Allium ascalonicum
Shallots are in the same family as garlic, and are closely related to a sweet onion. They are strikingly-beautiful light red to deep red in color. Their smooth, sweet flavor makes them extremely popular with chefs, and can be used in anything that calls for sweet onion. Shallots are great for French cuisine, vinaigrette dressings, sauces, soups, sautees and more. We offer 2 varieties of shallots both having a great sweet flavor when cooked.

Conservor

A tear-dropped shaped shallot with pale-pink flesh under a rosy pink/brown skin. This traditional French red shallot variety has a wonderful, savory flavor and good storage.

Ambition

A traditional globe-shaped shallot with rust-dark red colored skin. A delicate, never bitter flavor that is loved by chefs for its endless variety of uses. Their sweet flavor is magnified when sauteed and compliments any soups, sauces and stews.
ORDER ONLINE
All garlic and shallots are $10 per pound.
Please email us with your full order and shipping address.
contact@​sacred​organics.com
Choose from any of the varieties listed above.

We will email you an invoice with full shipping costs.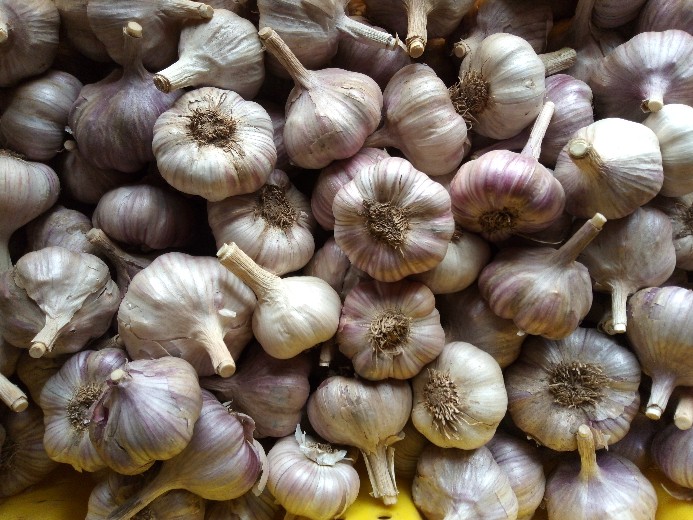 SHOP ONLINE
Online store coming soon.
HISTORY AND MEDICINAL USES
Coming soon here, information on garlic's rich history in human culture, for both medicine and cuisine.